Family Health Chiropractic is excited to now offer Posture Rehab!
Your posture is the practical end result of how you balance your body. Real people don't have "perfect posture" because posture is the result of how imperfect bodies adapt to old injuries and living in the real world.


However, there are better (or stronger) and worse (or weaker) postures. Poorly balanced posture requires more energy to stay upright, causing some areas to carry more stress and wear out more quickly than nature intended.
The good news: Weak posture can be strengthened. Improving posture involves more than just telling someone to stand straight and keep their shoulders back. Improving posture means strengthening how the body balances, and how it moves. Family Health Chiropractic is proud to have two Posture Instructors on staff to hep you achieve the best posture possible and improve the quality of your life!
Stretching is so often something people neglect to do at the end of a training session because they are too tired to do anything else. Or when they do, they just rush through each stretch and so don't get the full benefit of each one.
We stretch to improve our flexibility. Flexibility is the range of motion that is available to a joint or joints.
Flexibility is important because:
· It improves muscle balance around a joint, thus improving posture

· It reduces the chance of injury when playing a sport or in every day activities

· It increases the blood and nutrient supply to muscles and cartilage, thereby also reducing muscle soreness after training.
The Staff at Family Health Chiropractic can assist you with your stretching needs. Please ask the doctors, chiropractic assistants, or massage therapist for more information.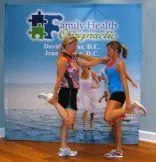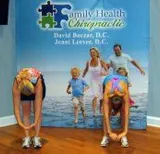 Runner's Stretches Cyclist Stretches Swimmer's Stretches
We are also available to attend your athletic event to assist athletes with proper stretching after the event.